Luxury Vinyl Flooring in Farmington, NM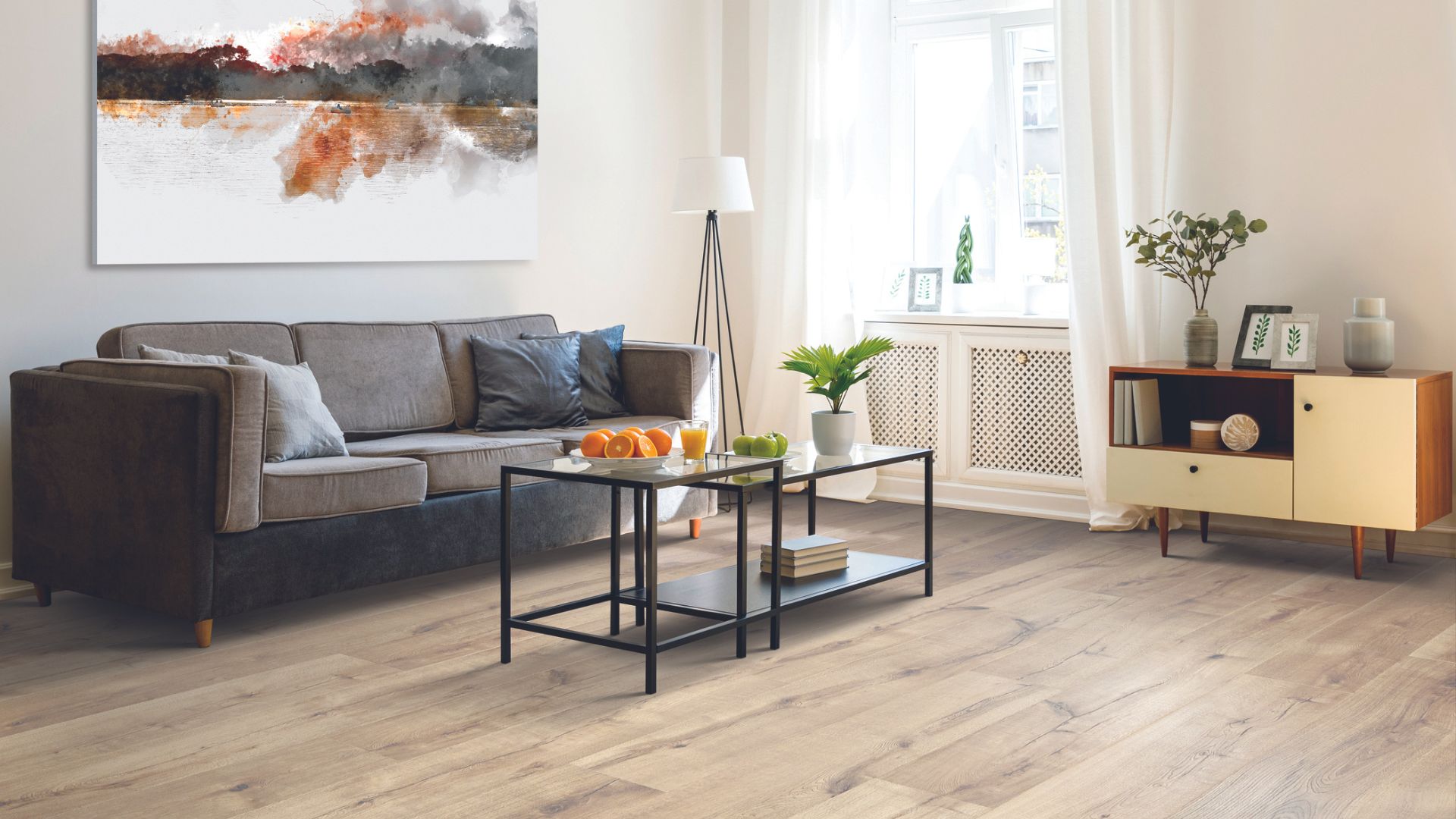 Elevate your Farmington, NM, home with luxury vinyl flooring from Design Surfaces by Floor Trader. Our premium vinyl plank and tile blend style and durability featuring cutting-edge technology for strength and realism. Choose from various designs replicating wood, stone, and more, ensuring stunning, high-quality floors. Our Farmington showroom provides a welcoming atmosphere, keeping costs low for you. Trust our professional luxury vinyl installation services to transform your home. Explore the realm of affordable elegance at Design Surfaces by Floor Trader in Farmington, NM!
Explore the Benefits of Luxury Vinyl Flooring
Why choose luxury vinyl flooring for your Farmington residence? Join countless homeowners in creating impeccably designed rooms within budget. Luxury vinyl floors provide remarkable quality without breaking the bank. Opt for trusted vinyl brands for enduring satisfaction. Revel in the advantages of vinyl flooring, including:
Perfect for High-Moisture Areas: Ideal for spaces like bathrooms and kitchens, luxury vinyl flooring thrives in high-moisture environments.
Multiple Protective Layers: Equipped with multiple wear layers, vinyl floors resist heavy foot traffic, spills, and stains for lasting durability.
Effortless Cleanup: The non-permeable wear layer ensures liquids stay on the surface, simplifying spill cleanup.
Low Maintenance: Keep your vinyl floors pristine with minimal effort, streamlining your cleaning routine.
Aesthetic Variety: Choose from diverse styles, including wood-like luxury vinyl plank and tile-inspired luxury vinyl tile, to complement your interior decor.
Affordability and Ease: Enjoy affordability and a quick, straightforward installation process with vinyl flooring.
Explore Our Range of Luxury Vinyl Flooring
Uncover the diverse luxury vinyl flooring options available at Design Surfaces by Floor Trader in Farmington, NM. Our premium vinyl floors, offered at affordable prices, seamlessly complement your home's style. Delve into our showroom to discover:
Luxury Vinyl Plank (LVP): Capture the timeless allure of hardwood floors throughout your home, even in moisture-prone areas like kitchens and bathrooms. While solid wood may not be practical in such environments, our luxury vinyl plank floors provide an ideal solution. Choose from various colors and wood-like patterns to coordinate seamlessly with hardwood in other areas, achieving a stylish and cohesive aesthetic.
Luxury Vinyl Tile (LVT): Crafted from high-quality materials akin to luxury vinyl planks, LVT offers the exquisite appearance of ceramic, porcelain, or stone tile floors. Our collection boasts tiles in various sizes, shapes, colors, and textures to match your interior design perfectly. Experience the durability and moisture resistance of vinyl floors while enjoying the sophisticated look of tiles. Easy to install, our LVT is a fantastic choice for any room in your home.
Versatile Installation Options for Luxury Vinyl Flooring
Luxury vinyl flooring is a versatile and adaptable choice for installation in various areas of your Farmington, NM, home. Enjoy the benefits of this resilient flooring solution in:
Kitchens: Luxury vinyl stands up well to spills and moisture, making it an ideal flooring option for kitchens where these elements are prevalent.
Bathrooms: With its resistance to moisture and easy cleanup, luxury vinyl is perfect for bathroom environments, ensuring both style and practicality.
Living Spaces: Enhance the elegance of your living room or family room with luxury vinyl, providing a comfortable and stylish flooring surface for everyday living.
Bedrooms: Experience the warmth and comfort of luxury vinyl in bedrooms, creating a cozy atmosphere while maintaining durability and easy maintenance.
Entryways and Hallways: With its resistance to heavy foot traffic and wear, luxury vinyl is an excellent choice for entryways and hallways, maintaining its aesthetic appeal in high-traffic areas.
Basements: Luxury vinyl's resistance to moisture makes it an ideal flooring solution for basements, where dampness can be a concern.
Home Offices: Create a sophisticated and functional workspace with luxury vinyl, offering both durability and a professional aesthetic for your home office.
The adaptability of luxury vinyl flooring allows you to achieve a cohesive and stylish look throughout your home, providing a durable and aesthetically pleasing solution for various spaces.
Laminate vs. Vinyl Flooring: Which Is Right for You?
Laminate and vinyl flooring are popular for cost-effective, durable, and stylish flooring options. Here's a brief overview of the key differences:
Laminate Flooring:
Composition: Laminate comprises multiple layers, including a wear layer, a printed image layer (which can mimic wood, tile, or stone), a core layer, and a backing layer.
Look and Feel: Laminate typically replicates the appearance of natural materials like wood or stone and offers a realistic texture, giving it an authentic look.
Durability: Laminate is known for its excellent scratch and impact resistance, making it a good choice for high-traffic areas.
Moisture Resistance: While it can withstand spills and everyday moisture, laminate is not recommended for wet areas like bathrooms.
Vinyl Flooring:
Composition: Vinyl flooring is made of synthetic materials and is available in two primary forms: vinyl sheets and luxury vinyl planks or tiles (LVT).
Look and Feel: Vinyl comes in various styles, including wood, tile, and stone looks, often with a textured surface for a realistic feel.
Durability: Vinyl is highly resilient, offering excellent resistance to stains, water, and wear and tear, making it ideal for areas prone to moisture or heavy use.
Moisture Resistance: Vinyl is fully waterproof and suitable for wet areas like bathrooms and kitchens.
Expert Laminate Flooring Installation
At Design Surfaces by Floor Trader, we are dedicated to ensuring your complete satisfaction and the enduring quality of your new floors. Our recommended solution involves professional installation by our skilled team. Once you've selected your flooring, allow us to schedule a laminate installation appointment. Our adept installers will arrive promptly, well-prepared, and committed to delivering precision and excellence.
We meticulously adhere to the manufacturer's guidelines and industry best practices, ensuring your floors are safeguarded against potential damage and enjoy an extended lifespan. Additionally, our services come with the Ultimate Confidence Guarantee. In the rare event of installation issues, our professionals will swiftly return to your home for corrective measures at no additional cost. Our top priority at Design Surfaces by Floor Trader is your peace of mind.


Contact us to learn more about our luxury vinyl flooring selection and installation services. We proudly serve customers in Farmington, NM, and the surrounding communities.